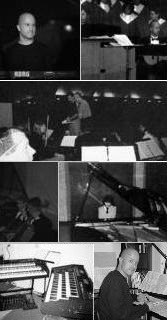 Allan Loucks is an award-winning orchestral and choral composer whose hundreds of compositions have been heard nationwide in a wide range of media. Examples include game music, educational software packages, films, TV, advertising, live theater productions, news reports, print publications, websites, dance, opera, sacred music, experimental works, non-linear adaptive music scores, interactive music, multi-dimensional/positional/immersive music, the concert hall, and more.
He is well-known for:
Extensive experience in story-telling through instrumental music.
The unique ability to determine and create the appropriate music for the project at hand.
Skills in shaping the music to become part of a story's dramatic structure.
Loucks' approach constantly challenges the established traditions, the "usual expectations", and the "rules" - not only how music sounds, but how music is used and how it communicates. And these fresh approaches continually garner widely acknowledged praise.
Being an active and working composer/musician in the music scene for many years, he has served numerous composer residencies, and has toured North America full-time as concert pianist and multi-keyboardist in a variety of bands and orchestras. In addition to composing, Loucks can also be found sitting in with choirs, bands, and orchestras, for various performing and recording projects.