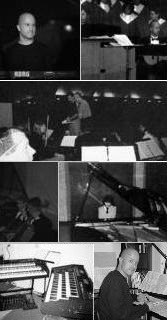 Allan Loucks is an award-winning composer whose hundreds of orchestral and choral works have been heard nationwide in computer games, educational software packages, live theater productions, film, TV commercials, books, websites, dance, sacred music, experimental works, and the concert hall.
While his main instrument is the piano, he is also a multi-keyboardist that uses his musically expressive and versatile arsenal of keyboards and synthesizers either as substitutes for other instruments, or for what they do best: generating new musical sounds.
Being an active composer and musician in the music scene for many years, he has served several composer residencies, and has toured North America full-time as concert pianist and multi-keyboardist in a variety of bands and orchestras. Currently, Loucks can also be found sitting in with choirs, bands, orchestras, and as a studio musician, for various performing and recording projects.